Swimming at the Pacific Sands Cabana Club
Beautiful Pool
Our members enjoy a beautiful six-lane, 25 yard pool. The Cabana Club is one of the only outdoor aquatic facilities in Huntington Beach open for swimming from the early morning to 10 p.m., 7 days a week, 365 days a year for all members. The pool is heated in the 80s for comfortable swimming year-round. Hot showers and changing facilities make it very convenient for the family.
Penguins Swim Team
The "Pacific Sands Penguins" Swim Team program offers competitive swimming and junior lifeguard preparation for 5–18 year old youths. Practices and swim meets are held at the Cabana Club throughout the spring and summer. The team also travels to other pool locations within Orange County as a visiting squad. This team is currently open to members only. For more information, call (714) 536-8091 or click here to go to team site for more information
Costa Mesa Aquatics Club
Costa Mesa Aquatics Club is a USA Swimming competitive swim program to offer practices and competition options September-April each calendar year solely for the members of the Pacific Sands Cabana Club for ages 5-12 (developmental stages). If athletes are desiring higher level (beyond the developmental stages) training options, they are welcome to swim at other CMAC sites if they are qualified.
Lap & Recreational Swim
Cabana Club lap and recreational swimmers enjoy the ample year-round availability of the pool to keep in shape and have fun.
Competitive Swim Teams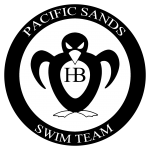 Click here to go to their Site
Known as the Pacific Sands Penguins. A private swim team open to members of Pacific Sands Cabana Club. If you have a direct question for the team you can email: